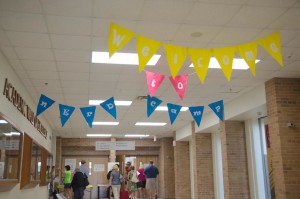 Today, I'm sitting at my computer wondering what day it is, mainly due to spending the last few days at nErDcampMI, the annual grassroots education summit hosted by Colby and Alaina Sharp in Parma, Michigan. nErDcamp is more than just a literacy event–it's a meeting of like minded nerds from across the Midwest and the country, all in service of books. So yes, it is basically the best thing ever.
Things I learned at nErDcamp 2016:
I need to work on my selfie game. These educators are ON IT.
The brain power at nErDcamp is something you can feel in the air.
I could listen to picture book author/illustrators talk ALL DAY.
Panels with kidlit authors are the most fun.
That Mr. Schu really knows how to work a crowd!
I love talking with readers. You guys are the best.
Kids are amazing!
I have major serious face when I teach stuff.
Volunteers make the world go round.

Once a nerd, always a nerd. Thank you nErDcampMI!!!
For those who are curious, the voice exercise I taught to the 6th graders is based on this post on writing craft that I wrote for Adventures in YA Publishing. The students were each assigned a character (name, age, one-word description) and asked to write a letter from that character to someone else in the character's life. I asked them to think about who their character might miss, or who they were mad at, or who they needed to share a secret with. The kids all caught on very quickly, and the surprise was that at least three students shared each character prompt, so they also got to see how their writing voices varied as we read their letters aloud.