It's back-to-school season, which means both traditional-calendar educators and authors are getting back to work. It's an exciting but draining time of year. New kids are awesome but exhausting, and educators are trying to get everything in place for a successful school year, including author visits.
Every time I speak with educators at conferences, the subject of author visits always comes up. How do you arrange one? How do you deal with the money part? What about selling books? Arranging an author visit can seem intimidating at a glance, so today I'm going to break down how to go about arranging an author visit and how to have a successful visit on the day-of. Like everything in school, success depends heavily on the work done in advance.
How to Find an Author for a Visit
One of the questions I hear regularly is: how do you find authors for an author visit? I think this really means how do I connect with authors or find authors who are local to me, but first I'll address the larger question of how to find authors to invite for a school or library visit.
First, keep a list of the books you really love. If you're anything like me, it can be hard to remember what you read yesterday, much less last year. Also, regularly solicit favorite books from students and keep a list of those authors and books handy, too, for when you're trying to think of authors to invite to a school or library. I use Goodreads to track what I read, but you can also use Library Thing or Reader Tracker. Tracking your reading can also help you identify areas where you are under-read to broaden and diversify your reading life.
Another way to find authors who live in or visit your area is by contacting your local bookstores. A relationship with a local bookstore will not only identify opportune moments to invite a visiting author, but will also help you execute your author visit with ease when it comes to ordering books. Attend local book festivals, book signings, and readings to make connections with authors from your area, and ask for author recommendations through your local Library Associations. There are also booking agencies such as The Booking Biz, Provato Events, and Phil Bidner's recently announced Author Village. If you are interested in arranging a virtual author visit, author Kate Messner maintains a list of authors who Skype for free (more on Skypes below).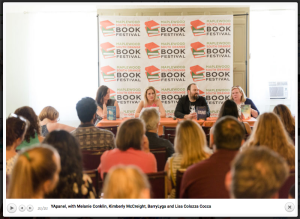 You can also find authors by connecting on social media. Authors love connecting with readers. No really, they do! How do you connect? If you read an author's book and love it, tag them in a tweet or Instagram or FB post. Many authors will respond, and even if they don't, they are sure to be smiling. Then, when you reach out to inquire about an author visit, you can introduce yourself by mentioning that you recently tagged them about loving their book, which gives you a nice segue. I'm socially anxious about reaching out to people I don't know, so I understand the feeling!
How do you reach out once you've found an author whom you would like to invite? It's simple: email or use the contact form on their website. That's what the websites are there for! Authors and their reps are happy to hear from you. It's okay to write with questions or rate inquiries. Your questions are not a burden. Just remember to be respectful of the author's time by replying to their communications. No one likes to be left hanging!
The Money Part
Now let's talk about the biggest stumbling block for many schools: funding. Author visits are so valuable for students, but it can be challenging to communicate that value to administration and parents. If you find yourself needing to justify the expense of an author visit, here are some key points to support your argument:
Author visits inspire children's writing. Seeing how hard an author works draws direct parallels with student life and fills students with confidence. Seeing how an author generated the story can spark student imagination, and getting to know the author makes writing more aspirational and attainable, from idea to revision to final draft.
Presentations can complement school curriculum. When you are seeking an author, look to see if their presentations fulfill specific learning objectives. If you need to cover a particular topic, ask the author if they can do a presentation on that topic. They probably already have! This way, your author visit does not take away from scheduled learning time.
Author visits promote reading. All students, and especially reluctant readers, benefit from hearing the inside scoop on how a story becomes a book. Hearing about the author's struggles allows the students to connect directly with the narrative and understand why the author made the choices they did. This supports making predictions and inferences, and other good reading traits.
The creative process can seem magical and unreachable, but authors are ordinary people. When a student meets an author, they are better able to visualize themselves as creators. Students will learn that the strongest trait of a writer is persistence, and that their dreams are worth following. Author visits have the power to change lives.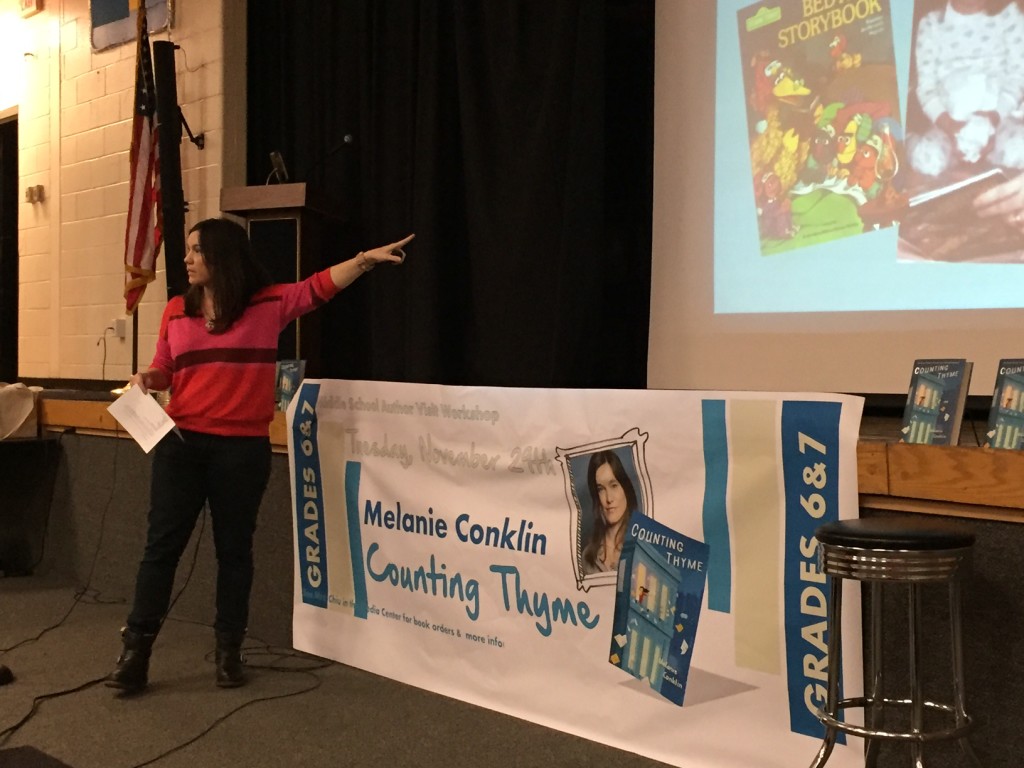 Some schools hold specific fundraisers to support their annual author visits. PTAs are often eager to support such events, but it is best to get the ball rolling early so you aren't short on time. Read-a-thons or write-a-thons are great fundraisers that tie in. Bookfairs are also a good opportunity to incorporate fundraising for an an author visit. Partnering with local community organizations such as Kiwanis, Friends of the Library, and Rotary can also be successful, and once you get on their list of causes to support, you're more likely to receive funding in the future. If your school qualifies for Title I funds, you may be able to apply some of that funding to an author visit. There are also quite a few grant opportunities available for arts education, which you can read more about here.
There are also ways to partner with authors to reduce your expenses. Many authors are happy to connect with multiple schools in a district, and will offer a discount for booking multiple events. This is especially helpful if you need to pay travel expenses. Connect with other schools in your district and also with the local libraries, which may have funds to support an author visit. It might seem reasonable to ask an author to waive their fee in exchange for book sales, but most authors only make about $1 for each book sold (after they earn out their advance, which may never happen). Even if you sold 100 books, that's less than $100 in the author's pocket. Publishers do not pay authors to go to school visits, and most authors can't afford to do visits for free, though some donate one or two visits per year. Negotiating rates is a reasonable thing to do if your offer is reasonable. It can be tough to talk money, but when in doubt, ask!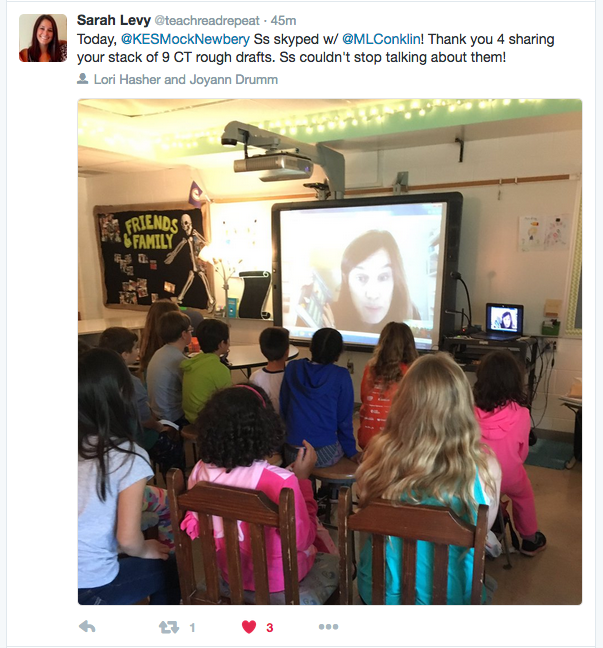 Skype visits are a great option if you have a limited budget. As mentioned above, some authors Skype for free. These visits are usually around 20 minutes long and limited to Q&A about the author's work. Some authors charge a nominal fee for Skypes, and most charge for longer Skypes that include a presentation. If you have not Skyped before, it's as easy as making a phone call or Face-timing! Google hangouts are another option. Make sure to do a test run with someone off site prior to your Skype date, to make sure your speakers and microphones are working.
The key to funding author visits is setting your goal well in advance, so that you have time to get the funds in place. An annual tradition such as a penny drive can support having author visits every year.
Selling Books at an Author Visit
Book sales might seem daunting to arrange, but kids need this opportunity to connect with the author and translate their excitement from the visit into reading and writing. Selling books is not the primary goal of an author's visit, but they want kids to have this special moment. Here are some book sale tips to help make the process as stress-free as possible:
Ask if the publisher has a school visit program. Some publishers, like Penguin, will ship books to the school for free, sell them at a reduced rate, and accept all returns with free shipping as well. The only thing you must do to take advantage of such programs is start early. You need plenty of time, usually 6-8 weeks–to arrange for participation in these programs.
Ask your local independent bookseller to manage the sales. Often, indies can provide a reduced price for larger orders of books or books going to schools. Sometimes, there can even be a fundraising component to the book sales. Approach stores early for best results.
Send home fliers well in advance (2 weeks minimum), and then send them again on the day the author visits. Most authors can leave signed stickers (called book plates) for the books that are purchased after the author visit. No author wants to leave a child without a signed copy!
Plan for signing time during the author's visit. Sometimes it is convenient to have the kids bring their books by the library during lunch, or to leave 5-10minutes at the end of each presentation for signing. Do not underestimate the power of meeting an author for just a minute and getting a book signed. Coordinating signings isn't always easy but it is worth it!
Ask your PTA to get volunteers to handle book sales. Often checks can be made out to the PTA, which can pre-pay for the books or pay the balance after sales are complete. Collecting payment for books is no different than collecting payment for a field trip, and it means so much to the kids.
How to Have a Successful Visit
Once you've found an author and agreed on a rate, it's time to prep for your visit. First of all, make sure there is a written agreement in place that protects both parties from unforeseen circumstances. Most authors will provide an agreement letter or contract. Read your contract carefully to plan for the equipment you may need for the visit: a projector, a remote control, a white board, a drawing pad, or other supplies. Also consider when and where you will distribute bookmarks if the author is providing them, and make sure you have all the necessary paperwork (such as background checks) in place.
The most important part of prepping for an author visit is getting the students engaged and excited. Make sure you have multiple copies of the author's books available in the library, and book talk the books with each class. Many authors have electronic previews of their books to introduce the title to students, so be sure to ask. Reader's guides can offer samples and activities to do in connection with the visit, and authors love to see student work based on their books, be that biographies, book reviews, or artwork. Students can even use their work to introduce the author at the event.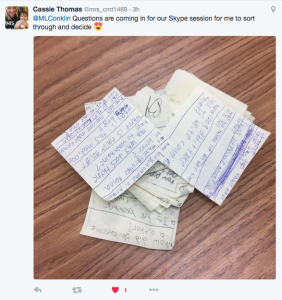 Have students prepare questions for the author ahead of time. This can be a fun activity where each class votes on their preferred questions as a group. Be sure to connect with the author on social media to build enthusiasm and post information about the upcoming visit where parents and staff will see the news and in e-blasts. Some schools even invite parents to come to the author's presentation, which makes a nice full-circle moment for families.
Mock Newbery clubs are also a great way to get parents involved. Parents and students can each read the books selected by your club and join in discussions. Incorporating an author visit or Skype with a Mock Newbery author can be really inspiring for both kids and adults.
Logistically, it's important to plan your itinerary for an author visit carefully, with time for classes to switch out, sign books, and maybe even eat lunch with their visiting author! Authors will also appreciate having a place to take a short break and guzzle some snacks in between presentations.
More than anything, authors want visits to schools and libraries to be inspirational and fulfilling for everyone involved. You can trust that they are preparing for the visit as much as you are. We share a common goal: literacy engagement. By the time the author visit arrives, the whole school will be buzzing in anticipation, and afterward the enthusiasm will last for weeks. That is the value of an author visit.
Happy planning to all!